There are some things I'm willing to admit (Minnesota and New York aren't THAT bad), and some things I'm not willing to admit (Utah as a contender). In the meantime, we are roughly halfway through the NBA season, and what have we learned so far?
A lot of things. Phoenix and Dallas appear headed towards another postseason "let's pull them out and compare" collision … the East is terrible … and most importantly, Portland is better than we thought.
We've also learned that it's time for another Tier Trauma. A refresher on the rankings:
Tier 1: Heavyweights. Teams who have a legitimate shot at winning the whole shebang.

Tier 2: Cruiserweights. Not quite ready to be considered in the league's upper echelon, but close and very talented.

Tier 3: Middleweights. Teams are a few steps away from contention, but have enough to challenge for a playoff spot.

Tier 4: Lightweights. Bad teams who don't have a chance.*



*when we say "don't have a chance", that refers to the championship, not the playoffs. The reason for this caveat is that because the Eastern Conference is so weak, there will inevitably be a lightweight team or two who challenges for a playoff spot.
Without further ado…
TIER TRAUMA VOLUME 4
Note: a "+" in front of a team notes that they have been promoted a tier, "-" signifies a demotion.
Tier 1 - Heavyweights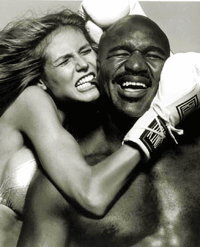 Suns
Mavericks
Spurs
Nuggets
No change here to the teams, just the order. The Suns (who are 27-2 in their last 29 games, as William Simmons so eloquently pointed out earlier this week) keep the top spot, while the Mavs have replaced San Antonio as #2. I know what you're all thinking regarding the Nuggets … but I still think they've got enough talent to be a "sleeper" and am curious to see what AI and 'Melo can do together. (Melo comes back on Saturday, for anyone who's interested.) Utah has not been a part of this Tier all season long, something I take pride in, and that's starting to look like a smart move on my part.
Tier 2 - Cruiserweights
Bulls
Rockets
Cavs
Pistons
Lakers
Jazz
Magic
+Warriors
+Bullets
Clippers
Pacers
The Bulls and Rockets are teetering on the edge of contention. I still say that Chicago's occasionally-suspect offense and Tracy McGrady's creaky back are keeping both from being legitimate "I'm scared of them winning the title" threats. The Pistons may have gotten a little worse by adding Chris Webber (unless that allows them to deal Antonio McDyess for a contributing piece), and we have two new additions to this group: the Warriors and Bullets. You all know that I love the trade Golden State made on Wednesday, and Washington (and please for all of you emailing me, YES I know they changed their name to the Wizards; I simply refuse to acknowledge it) has arguably the best offensive player in the league right now in Gilbert Arenas. I don't like their chances in the playoffs, but let's not ignore the fact that they've got big wins over Dallas, Denver, Miami, LA Lakers, Phoenix, Orlando, LA Clippers, Chicago, and Utah – just in the last 5 weeks.
Tier 3 - Middleweights

Heat
+Timberwolves
+Raptors
Nets
+Knicks
Blazers
Bucks
I'm not going to lie to you – it hurts me to give the Knicks this promotion. But the fact is, they're playing moderately-passable basketball. The fact that they've had a few injuries and a few suspensions has actually been good for them, as it's forced Isaiah to shorten his rotation and give more PT to some of New York's role players. Nate Robinson and Steve Francis' absences, two more shoot-first guards on a team that already had a few, has been addition by subtraction for this team. And I suppose I should acknowledge that Minnesota has also been playing some very good hoops as of late. As of press-time, they hold the #7 spot in the playoffs – and though they've been doing it primarily against the weaker teams, they are playing well and you can't argue with results. One last note: last time we did a Tier Trauma, Portland was ½ game out of the playoffs. Now they're 4.5 games out, and doing the jekyl-and-hyde thing (lost to Boston and New York one week, blow out Cleveland the next) that we have all been expecting from this young team.
(PS - I still say that Timberwolves logo is the dumbest of the three major sports.)
Tier 4 - Lightweights
Celtics
-Kings
-Hornets
Hawks
Sonics
Bobcats
Grizzlies
76ers

A gigantic bag of crap is what we have here. You can smell this filth all the way from Canada. Every team on this list really, really sucks and has no reason to believe it's going to get better any time soon.